28-Day Advanced Close Protection Operative (QCF)
April 1 @ 9:00 am

-

April 28 @ 5:00 pm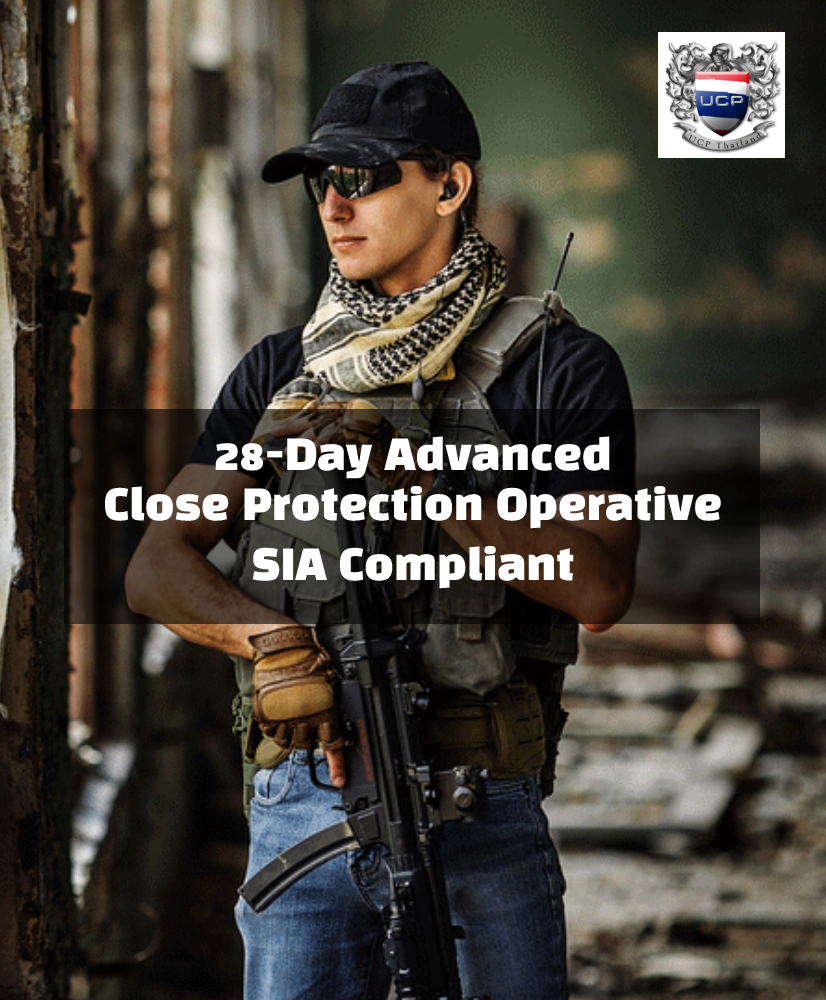 28 days training + pre-distance learning – Our 28-Day Advanced Close Protection Operative course has carefully been designed utilizing our Instructors extensive military experience and many years working in the Close Protection industry, to provide one of the most in-depth and comprehensive courses in the market today, preparing students to work in both hostile and executive Close Protection environments. The course main target is to provide the student with all the necessary theoretical knowledge and practical skills to work as a Close Protection agent. The Course is approved by SFJ® and Proqual® and allows the Graduate to apply for the SIA license.
Audience
For ex-military, police, or anyone with limited experience in the Security Industry wanting the very best training in executive and hostile close protection working remits. From the bottom up this course was designed for individuals or groups knowing they will be instructed at the very highest level, led by instructors with backgrounds in British Military, Civilian, Police and UK Special Forces. With small candidate numbers, you are sure to be supported every step of the way.
Course Details
Course duration: 28 days + pre-distance learning
Location: Bangkok Thailand
Dates: July 1st – 28th  2022
Price: Please contact us
Accommodation: 29 nights included (hotel room)
breakfast
pick-up and drop-off Phuket airport
Course Format & Certification
Course structure: The course will use the minimum of classroom lectures with a maximum of realistic and practical field training exercises to provide a full understanding of close protection operations worldwide.
Pedagogic tools: manual of the bodyguard, SFJ manual, videos, PPT.
Assessment: Students are required to successfully pass the following assessments:
Complete a comprehensive Student Learning Journal, where students need to demonstrate a solid theoretical understanding of the SIA modules
Pass the required examination by way of a multiple choice question paper
Practical performance assessments throughout the course
Certification: Participants will be given the following certificates
SFJ® Level 3 Close Protection Operative. (This certificate allows the graduate to apply for the SIA license)
SFJ® Level 3 in First Aid Response (FAR). (This certificate allows the graduate to apply for the SIA license)
Proqual® Level 4 Award in Weapons Proficiency for Private Security Contractors (9 mm / 5.56 mm / 7.62 mm. (This certificate is requested by private security contractors)\
Job opportunities: We have job opportunities for our best candidates within the UCP Group (https://www.ucp-group.com/).
Referrals: We can offer you a 10% discount or commission (on the payment made) for every student that you can refer to us.
Course content & Syllabus
18-Day SFJ® Level 3 Close Protection Operative
Roles & Responsibilities of a CPO
Law & Legislation
Teamwork in the CP Team
Interpersonal Skills
Threat & Risk Assessment
Operational Planning
Route Selection
Reconnaissance
Venue Security
Vehicle Drills
Surveillance Awareness
Walking Drills
Search Procedures
Incidents & Dilemmas
Communication & Conflict Management Skills
Close Combat
3-Day SFJ® Level 3 in First Aid Response
The roles and responsibilities of a first aider
Assessing an emergency situation safely
CPR and AED
Administering first aid to a choking casualty
Dealing with massive hemorrhages
Dealing with shock, burns, scalds, bleeds and minor injuries
Dealing with sudden poisoning or an anaphylaxis
Dealing with casualties with fractures, and spinal, head or chest injuries
Dealing with heart attacks, strokes, and other major illnesses
Triage
Communication, Evacuation Priorities
Evacuation Care
Convoy IED Scenario
7-Day Proqual® Level 4 Award in Weapons Proficiency for Private Security Contractors (9 mm / 5,56 mm / 7.62 mm)
Introduction to PSC/PMC (Private Security Contractors / Private Military Contractors)
PSD Team – Roles & Responsibilities in Hostile Environments
SOP (Standard Operational Procedures) in Hostile Environments
Ambush and reaction to attacks in Hostile Environments
Embus / Debus in Hostile Environments
Firearms training pistol 9mm and carbine 5.56 / 7.62 mm:

design and mechanics
Safety rules
Gear preparation (holster, mag pouches etc.)
Fundamentals of pistol shooting
Tactical shooting principles
Ready positions
Speed/emergency reload
Tactical reload
Malfunctions
Double shots
Multiple targets
Alternate shooting positions
Shooting with the use of cover
Various directions shooting
Shooting on the move
Strong/weak hand shooting
Shooting with the use of tactical flashlights
Disassembly/assembly and cleaning guns

Close Combat
IED, Mines, explosives, and UXO
Tactical Driving, convoy procedures and reaction to attacks
Radio procedures
Case Studies
Total = 28 days