14-Day HABC® Level 3 Close Protection Operative (QCF)
April 13, 2020 @ 9:00 am

-

April 26, 2020 @ 5:00 pm

฿75000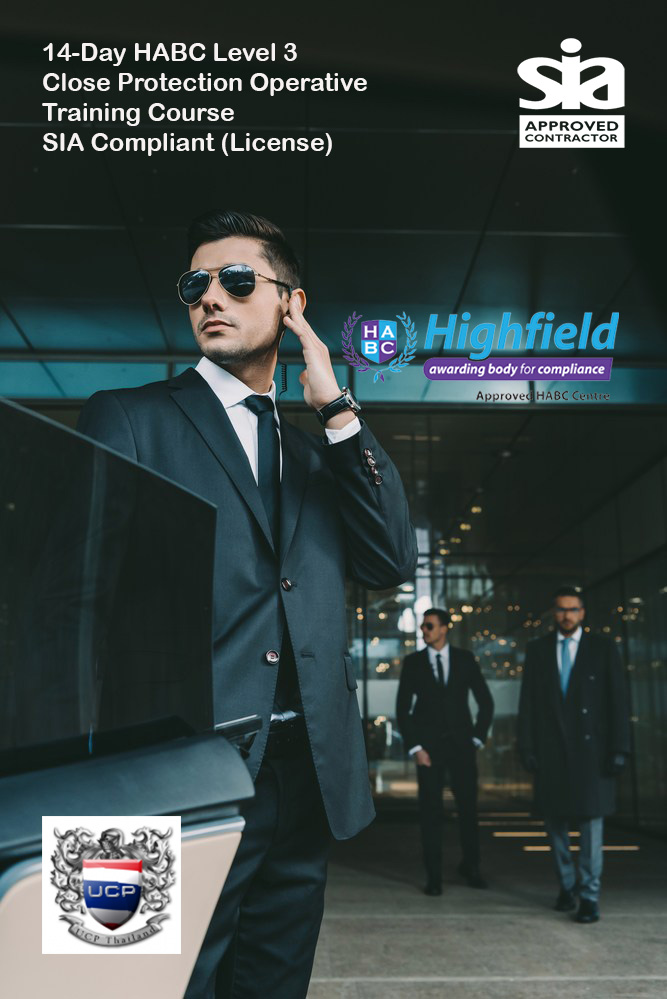 Our 14-Day HABC® Close Protection Operative course has carefully been designed utilizing our Instructors extensive military experience and many years working in the Close Protection industry, to provide one of the most in-depth and comprehensive courses in the market today, preparing students to work in both hostile and executive Close Protection environments. The course main target is to provide the student with all the necessary theoretical knowledge and practical skills to work as a Close Protection agent. The Course is approved by HABC and allows the Graduate to apply for the SIA license.
Audience
For anyone with limited or no experience in the Security Industry.
Course Format & Completion card
Course duration: 14 days
Course structure: The course will use the minimum of classroom lectures with a maximum of realistic and practical field training exercises to provide a full understanding of close protection operations worldwide.
Pedagogic tools: a manual of the bodyguard, HABC manual, videos, PPT.
Assessment: Students are required to successfully pass the following assessments:
1/ Complete a comprehensive Student Learning Journal, where students need to demonstrate a solid theoretical understanding of the SIA modules
2/ Pass the required examination in Conflict Management by way of a multiple choice question paper
3/ Practical performance assessments throughout the course
Certification: Participants will be given a HABC® level 3 for working as a Close Protection Operative in the Security Industry certificate after successful completion of training. This certificate allows the graduate to apply for the SIA license.
Course content & Syllabus
Roles & Responsibilities of a CPO
Law & Legislation
Teamwork in the CP Team
Interpersonal Skills
Threat & Risk Assessment
Operational Planning
Route Selection
Reconnaissance
Venue Security
Vehicle Drills
Surveillance Awareness
Walking Drills
Search Procedures
Incidents & Dilemmas
Communication & Conflict Management Skills
Total = 14 days